My Name is Jenny and I am the founder and owner of The Horsham Dog Walker.
I originally trained as a nurse and worked in various different nursing specialties. Following that, I moved overseas, and spent many years caring for young children.
I have always been drawn to caring professions, and I started this business back in 2010 because I wanted to get back to my first love……..dogs!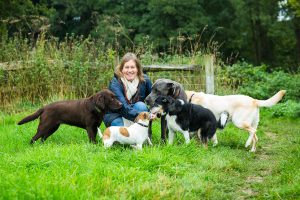 I know from first-hand experience how comforting it is to know that your pets are safe, cared for and loved by someone that you can trust completely.
I grew up with various different animals, and I am now the proud owner of Hunny Bea, my beautiful 12 year old chocolate Labrador Retriever.
Hunny Bea is my partner in the business; she is very loving, with a wonderfully calm and gentle disposition.
She puts all the dogs at ease and keeps an eye out for the less confident dogs and the puppies.
If she could drive she'd probably be running the business herself!!
I consider myself extremely blessed to be able to do a job that I absolutely love.