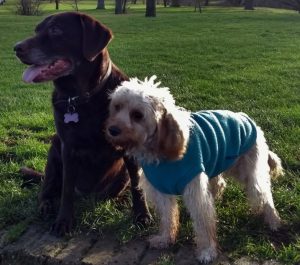 Are you going away and want to avoid putting your dog into kennels? The Horsham Dog Walker offers a service where your dog can enjoy a holiday of their own in the comfort of our home.
We are an official dog boarding establishment, with a Dog Home Boarding Licence issued by Horsham District Council. Their annual inspections and spot checks will assure you that we abide by their strict rules and that your dog is being properly cared for.
While in our care your dog will live as part of the family, with free run of the house and garden.
Horsham District Council Home Boarding Licence LI/13/0401/HOMEB
A holiday with us provides:-
The peace of mind that your dog is receiving the personal, full time care that he/she deserves.
As much exercise as your dog requires.
An alternative to kennels in comfortable and caring surroundings.
Comprehensive insurance.
24 hour cover with Crossways Veterinary Surgery.
The same feeding routine that your dog is accustomed to.
And of course…. lots of love!!!
So while you are relaxing and enjoying your holiday, you can rest assured that your dog will be enjoying a holiday of their own!
Booking in Procedure
Contact us to check availability on 07812 766157.

Arrange a visit to our home. This gives us a chance to get to know you and your dog. It also gives your dog a chance to familiarize themselves with our home, thus reducing the stress of being left in a strange place when you leave for your holiday. It also gives us a chance to chat about your dog(s) requirements, and for us to answer any questions you may have.
On the agreed date, bring your dog to us with everything he/she will need for their holiday. See our home boarding checklist.
FAQ
Q. What should I bring with me?
A. See our checklist above for all the items your dog will need.
Q. Do you provide food and treats?
A. In order to prevent any upset stomachs you need to provide enough food for your dog for the duration of their stay. We can cater for dogs on cooked and raw diets, and can also accept food that needs to be frozen until required. Please also bring any treats that your dog has on a daily basis. I keep a supply of wheat free biscuits and treats which your dog is welcome to have, but I like to keep everything as similar to their home routine as possible.
Q. My dog is on medication, is this a problem?
A. No problem at all. My own dog is on medication twice daily, so I am well used to that. I set up reminders on my phone for all meds that need to be given so rest assured that your dog will receive their medication exactly when they require it. Please make sure you bring enough medication for the duration of their stay.
Q. Can my dog sleep upstairs at night?
A. Yes! As far as possible I try to stick to their normal routine. Your dog is welcome to sleep in our bedroom at night. Just make sure you bring their own dog bed!
Q. My dog normally sleeps in a crate at night. Can he still do this if he boards with you?
A. Yes I am happy for you to bring your own crate for your dog.
Q. I am going overseas. Will you be able to send me updates while I'm away?
A. I am happy to contact you as much or as little as you'd like. I will always reply to texts and emails the same day to let you know how your dog is getting on.
Q. Do you accept any dog?
A. Unfortunately I am unable to accept the following dogs for home boarding: Puppies under 1 year, unspayed bitches, and unneutered males.