Q. Are you a franchise?
No, we are a small privately owned business offering the personal touch.
Q. Where do you walk?
I walk at Chesworth Farm, Roosthole, Owlbeech Woods and St. Leonards Forest amongst other places. All my walks are in the open countryside, far away from busy roads.
Q. How many dogs do you walk at a time?
My business insurance covers me to walk 6 dogs at a time. Normally it is a maximum of 4 dogs (including my own dog)
Q. Will you walk my dog off the lead?
I am happy to walk your dog off the lead with your permission. Your dog must be well behaved with reasonable recall.
Q. Do you walk regardless of the weather?
Yes! I walk in all seasons and all weathers.
Q. Do you have insurance?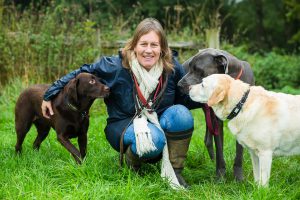 Yes. I have public liability insurance, specific to dog walking, with coverage up to £5,000,000.
Q. Are you Police Checked?
Yes.
Q. What do you do if there is an emergency?
Thankfully emergencies are extremely rare. I will contact you as soon as possible to explain the situation. Should your dog require veterinary care, I will take your dog to your registered vet. If this is not possible I will go to my own vet, or the nearest vet in the vicinity.
Q. Do you offer day care?
Yes, but places are limited. Please call to enquire.
Q. Do you offer overnight boarding for holidays?
Yes, we are a licensed boarding establishment providing a 'Home from Home' boarding experience. See our dedicated home boarding page for more information.
Q. How do I pay?
Payments are made weekly by cash, cheque or bank transfer.